Tips & Techniques
How I change my acoustic guitar strings (from start to finish)
Lesson #239
Video Overview
No PDF chord sheet exists for this lesson
As of now, I haven't made a printable PDF to accompany this video lesson. If you'd like to request that I make one, shoot me an email. I can't guarantee I'll make a PDF for every older lesson, but it's helpful to know which lessons have the most interest.
Here's a list of the 200+ lessons I have made PDFs for.
Editor's notes
Hey friends! I recently needed to restring my guitar — and thought it may be helpful to record the entire process, from beginning to end. To be clear, I don't pretend to be an expert when it comes to changing strings or guitar maintenance. Likewise, this isn't a "tutorial" per se. Instead, it's meant to be an honest depiction of what the process looks like for me. Unlike other videos I've made, this one is done in a single unedited take – to help portray how long this really takes.
Here's the timestamps for this video:
0:00 Overview
1:36 Getting Comfortable
3:01 Supplies & new strings I'm using
7:30 Removing old strings & pegs
13:44 Cleaning the guitar
17:16 Putting on the new strings
40:50 Tuning the new strings, 1st time
45:34 Tuning the new strings, 2nd time
47:12 Tuning the new strings, 3rd time
50:17 Wrapping up & farewell
My request: if you are any kind of expert when it comes to restringing or guitar maintenance, feel free to send any feedback you have! I'm always looking to learn and improve. Thanks!
The restringing diagrams I reference in the video
Here's the string tying approach I take in the video: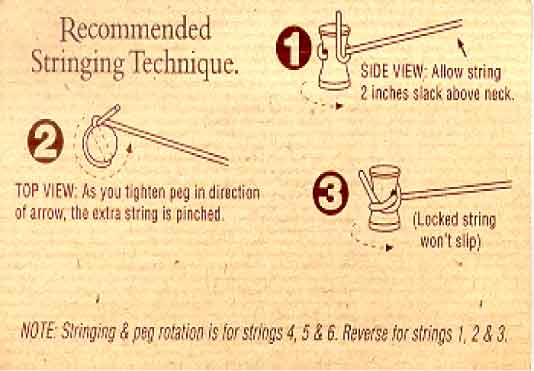 A proper tutorial on changing your strings
If you're looking for specific best practices by someone who knows a lot more than me, I recommend this video from Justin Sandercoe:
Best of luck!
Get my lessons in your inbox!
Every couple weeks I send out an email newsletter with links to whatever new lessons I've made. Sign up here and stay in the loop!
---
Enjoy my lessons? Buy me a beer!
If this and my other lessons have proven helpful to you, please consider making a one-time donation to my tip jar. Contributions of any amount help make this project possible (including the many, many hours I put into it).
You can also support me on Patreon. For only $3/month you'll get access to a print-friendly PDF of my notes for each new lesson (view free sample).
Thanks!
---
Subscribe to my YouTube channel
Be sure to never miss a lesson by subscribing on YouTube. I put out 2-3 new videos every week. These include full song lessons, as well as covers, practice tips, behind-the-scenes updates. Thanks!
---
Recent video lessons:
📝 My "song" PDFs are now individually purcasheable! I've arranged a licensing agreement with Musicnotes, a service that lets you buy sheet music. Patreon suppoters get 50% off each purchase. Get the latest info here » (last updated July 1, 2021)
Browse my all lessons
By lesson type
By song decade
By musical genre
By guitar technique
By musical key
By popular artist
---